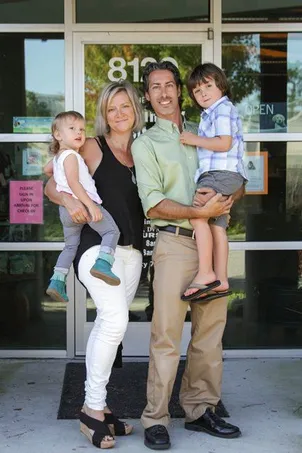 Dr. Rebecca Simmons-Resnick and Dr. Matthew Resnick
In November 2014, Rebecca and Matthew bought the practice from the previous owners, Drs. Ron and Sharon Harris. They maintain the family-like atmosphere and honest values that have always defined the hospital and its practices.
Matthew grew up in New Rochelle, New York. The middle child of two schoolteachers, he became deeply interested in science and the natural world of animals at an early age. He spent his formative years riding horses and working in the local pet stores where his knowledge of and passion for animals began to take root. Matthew attended Ross University School of Veterinary Medicine on the Caribbean island of St. Kitts where he spent three years earning his veterinary doctorate. Matthew returned to the States to complete his last clinical year of veterinary study at the North Carolina State University College of Veterinary Medicine, and it was there that he met his future wife Rebecca. Upon graduation from veterinary school, he spent a year practicing as a veterinary associate in Port Jervis, New York before returning to North Carolina in 2005 to pursue both his veterinary career and his relationship with Rebecca. He worked as an associate veterinarian at Wrightsville Beach Pet Hospital for ten years prior to joining the team at Porters Neck Veterinary Hospital in September 2014.
Rebecca was born in Hot Springs, Arkansas. Her father is an accomplished artist and retired professor, and her mother manages an antique store in downtown Hot Springs. She and her sister Jamie grew up surrounded by animals, and Rebecca has always had an abiding interest in nature and the outdoors. Rebecca moved to Wilmington in 1999, where the Harris' became close friends and mentors before her departure in 2001 to attend the North Carolina State University College of Veterinary Medicine. In 2005, Rebecca received her doctorate in veterinary medicine and returned to Porters Neck Veterinary Hospital where she held an associate position for ten years.
Rebecca and Matthew were married in 2009, and have two children, River and Alexis. They currently have three dog (Tippy, Gigi, Jacoby), three cats (Briar, Leroy, and Tonks), and an array of fish.

---
Dr. Carrie Tatgenhorst
Dr. Carrie Tatgenhorst joined PNVH in September of 2020. She graduated from the University of Sydney in Sydney, Australia. After an amazing experience abroad, she returned to the States to private practice first in Delaware , then practiced for the last 5 years in Long Island, NY. She moved to Wilmington with her fiance, Josh, two kitties, Wally & Roo, dog, Jezabel and new rescue pup Parz. She is enjoying the beautiful Wilmington area and all the great outdoor activities that come with it! In her spare time she enjoys going to the beach, playing tennis, gardening and running.

Dr. Sarah Baldwin
Dr. Sarah Baldwin is originally from Alexandria, VA. She graduated from Virginia Maryland College of Veterinary Medicine in 2017. She has practiced on a variety of veterinary species in both companion and large animal medicine. In her free time, she enjoys personal fitness, hiking, biking and hanging out with her 3 cats and her dog.

Dr. Margaret White
Bio coming soon!