Your Healthcare Team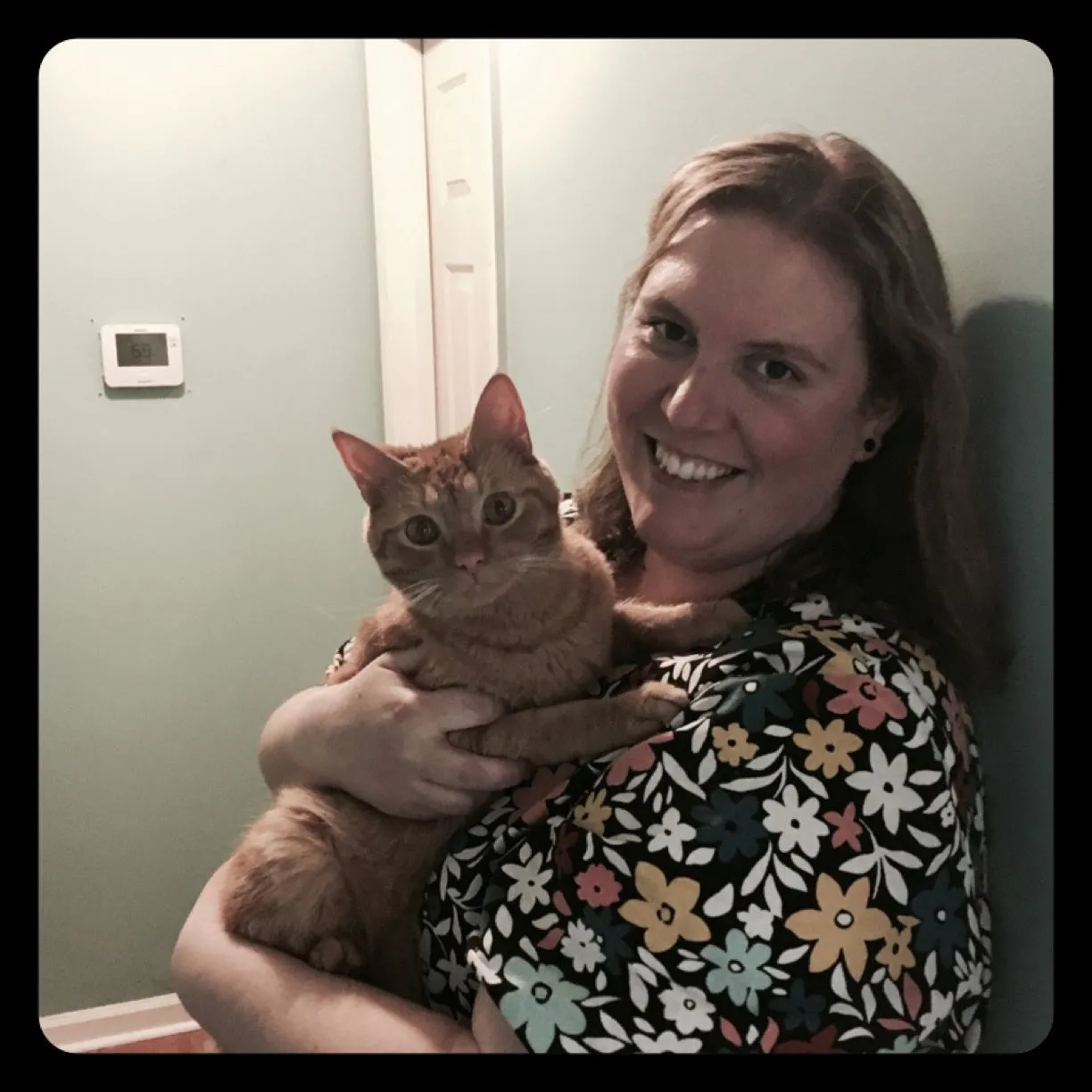 Ashlee G., Co - Practice Manager
Ashlee is one of our Practice Managers. She has been with us since 2012 and in the veterinary field since 2003. Originally from Cary, NC, Ashlee attended UNCW where she obtained a degree in Biology. During her personal time, Ashlee enjoys crocheting, drawing, reading, spending time with her niece and nephew, and loves to learn about all things medical related. She and her husband, O'Lando, have five furry kids: Chuck Bass, Blair Waldorf, Krueger, Lux, and Slater.
Brittany B., RVT, Co - Practice Manager
Brittany is one of our Practice Managers. She started at PNVH in June 2017 and in the veterinary field since 2014. She graduated from Pima Medical Institute with her Associates in Veterinary Technology and completed her RVT certification in 2015. She is originally from Glendale, AZ and has been in NC since April 2015. She shares her home with her husband, Chris, their twins, Avery and Andrew, their dog, Jewel, and cats, Ink and Squid. Brittany enjoys painting with watercolors, the beach, traveling, and hiking in her spare time.
Nicole C., Office Assistant
Nicole has been working in the vet field since her first job at 16 as a veterinary receptionist. She joined Porters Neck in February 2019. She spends most of her time loving on her cat, Forrest and dog, Mulaney. When not working, Nicole enjoys working on arts & crafts and gardening.
Receptionists
Grace W., Team Lead
Grace Joined PNVH in the spring of 2022. She grew up on a farm in Illinois and moved to the Topsail area in 2016. Grace has been around animals her whole life whether that be horse farms, dog rescues, or at her own personal "zoo". In her free time she enjoys hiking with her dog, Lucille, cooking gourmet food, and gardening.
Sarah W.
Sarah joined PNVH in the winter of 2018. She has a degree in Psychology, but her passion is veterinary medicine. Sarah and her husband Graham share their home with their four dogs: Kimber, Benelli, Bear, and Journey. In her spare time she likes to spend time with her family and friends and play pool.
Monica J.
Monica started working at PNVH in 2020. She has worked with animals most of her life, from horse barns to doggie daycare. She loves spending her free time outdoors with her two dogs, Lily and Ollie, and her cat, Miso.

Kylie S.
Bio coming soon!
Veterinary Technicians
Melina R., Technician Manager
Melina began working at PNVH in 2018. She moved to NC from New Jersey in 2017. Melina has her Bachelors in Small Animal Science and is planning to go to vet school. She enjoys Spanish food, her pitbull Captain, and spending time outside, whether it be at the beach or in the mountains, she loves seeing different parts of the world.
Brandi R., Team Leader
Brandi started at PNVH in 2019. She has been in the veterinary field since 2012 with general practice, surgery, and emergency experience. She is currently working towards her RVT at CFCC. She is a NC native and has been living in Wilmington since 2016. Brandi lives with her husband, Jeff, and their own personal zoo. They have two dogs, Daisy May & Stella, two cats, Grady & Keys, chickens & a ball python. Brandi loves the outdoors, being active in the gym, gardening and crafting.
Courtney J.
Courtney has worked at PNVH since 2019. Originally from Georgia, Courtney moved to Wilmington in 2013 to work at the Fort Fisher Aquarium before coming to small animal medicine. Courtney lives with her husband, their dog Noodle and their two cats Crumb and Fig. Courtney loves cooking and traveling in her spare time. Her favorite dog breeds are pitbulls and boxer babies.
Jessica L.
Jessica started at PNVH in 2019 and she has worked in the veterinary field since 2009. Jessica lives with her husband Spencer and their 3 furry kids: Jordan, Drake and Chance. In her spare time, Jessica enjoys photography, traveling and crafting.
Madison W.
Madison joined the PNVH family in 2019. She has been working with animals since she was 11 and has been a veterinary technician since 2015. Madison has 2 pit bulls, Gumby and Toph, a 3 legged kitty, Agent, and a leopard gecko, Randall. She loves hiking and camping with her pups in her free time!
Jenna L.
Jenna started with PNVH in 2020. Jenna and her partner moved to NC from Michigan 4 years ago. She enjoys going to the beach as often as possible, long walks with her dogs, Buffy and Cocoa, and playing fetch with her cat, Dragon. Jenna loves frogs, reptiles, and all other furry creatures!
Tiffany B., RVT
Tiffany started at PNVH in 2020. She is an NC native and recently graduated from the Veterinary Technician Program at CFCC. Tiffany plans to take the state and national exam to become a Registered Veterinary Technician. She lives with her two horses and three dogs and in her spare time Tiffany enjoys riding, hunting, and traveling!







Brooke S.
Brooke started at PNVH in July 2020. She is a NC native and graduated from NCSU with a B.S. in Biology. Brooke enjoys kayaking, fishing, hanging at the beach, and spending time with friends and family. She lives with her fiance, Cody, in Rocky Point and they share their home with their 4 dogs, Sadie, Jackson, Mako, and Creed.











Emily K.
Emily began working at PNVH in August of 2021. Originally from New Jersey, Emily moved to North Carolina in February of 2021 after living in California for four years. She has been in the veterinary field since 2012, and comes with experience in general practice, shelter medicine, surgery, and wildlife rehabilitation. Emily shares her home with her husband, AJ, their two daughters, Ainsley and Tallulah, their schnauzer mix, Mitzi, their two cats, Fish and Meeko, and several chickens. In her spare time, Emily enjoys reading, spending time outside with her family, baking, gardening, hiking, kayaking, and traveling. Emily has a special interest in wildlife and rescue, and plans to pursue her RVT license.
Bella M.
Bio coming soon!


Charlotte K.
Charlotte was born and raised in New Jersey. She moved to Wilmington with her best friend in August of 2021. Shortly after she adopted her son, Gordon Bear. Charlotte started at PNVH in November of 2021 where she met Bella M, her now bff. In her spare time she likes to bake, go to the beach and listen to music.
Lisa T.
Lisa grew up in Beijing before returning to California at the age of 15. After pursuing a career in EMS/Fire she realized her real passion was in Vet Med. Her love for animals started with her first dog, a pug named Fafa. Pugs hold a very special place in her heart! Her dad had many fish, reptiles and fostered many small dogs and her mother has a farm in the Philippines so growing up, there was no shortage of four legged or finned friends. Outside of work, when she's not training and prepping for therapy dog work with her GSD Aussie mix, Cookie, she's all bundled up on the couch watching anime or any horror movie with her Chihuahua, Chocolate: A total mama's boy! She's ecstatic to be a part of PNVH.
Maddy G.
Maddy is from a small, one red light town in Georgia. She has lived in North Carolina for 6 years now. She currently has three dogs. An old poodle, a beagle/boxer mix, and a shepherd/lab puppy. She started at PNVH in 2022.
Alexis D.
Originally from Virginia, Alexis moved to Florida 3 years ago where she started her carrier in vet medicine as an assistant. She is currently pursuing her degree to become a registered veterinary technician. She currently lives at home with her two "beloved" Huskies and her Boston Terrier, along with her husband and daughter.
---
Kennel Technicians
Jazmin S.
Jazmin started at PNVH in 2021. She grew up in Wilmington NC and now lives with her boyfriend and their own personal zoo of animals. They own a dog and a cat, two guinea pigs, a budgie parakeet and a bearded dragon. She enjoys drawing and making art in her free time as well as watching movies and going on walks with her dog.
Kelsey S.
Kelsey is originally from Pasadena, MD but moved to Wilmington, NC in August of 2021. She has a golden retriever named Champ and a ragdoll cat named Belle. In her free time she likes to hangout with her friends and watch her favorite TV shows.
Ava M.
Ava currently goes to CFCC in hopes to graduate with a dental hygienist degree. She was born and raised in Wilmington, NC and has a love for animals. She has two giant Great Pyrenees, Costa and Maui. She enjoys hanging out with her dogs and snowboarding!
Lennon
Lennon started at PNVH in 2019. He enjoys walking around the hospital meowing as loud as he can for treats. He will often be found waiting in the kennel for more treats and stalking a select few employees he knows he can manipulate into giving him treats. Some of his favorite past times include eating, meowing, and lounging in his cat bed in the treatment room. He also enjoys being held like a baby and getting his purr motor going.